What is inspiration?
I was watching TV one morning a few years back and Tamara Taggart was interviewing some crazy Swede who rode from Sweden to Everest on his bike and then climbed it with no oxygen. Apparently he carried all of the equipment he needed for the journey on his bike and trailer. To top it off he rode home. Now Tamara is not very tall to begin with (boy she's cute though!), but this man was a giant. However he was a friendly giant, full of humor and antidotes. I was so impressed I tried to see him at the Ridge Theatre where he was doing a presentation of his Everest footage among other things. Well not knowing anything about him at the time, I figured I would get there about half an hour before the show and walk right in. Well I got there and the lineup was around the block. That night I went out and bought his book 'Ultimate High - My Everest Odyssey' and proceeded to read it cover to cover over the next day. This man, Goran Kropp knew nothing of limitations which I believe is something all great people posses. I buried those feelings but knew I had to act on them. Onward to China...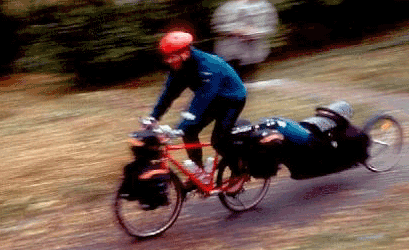 Goran Kropp spinning them pedals!!!
Why China?
That is usually the first question I get asked. It is not the easiest to answer either, I usually give the same old response in the general terms of, "Because it's there". Truly though, I have a lot of animosity towards the people who started the Cultural Revolution and who were responsible for the massacre of Tibet. However, I am only now starting to grasp the length of China's history and how this is just a minor blip on the radar no matter how unrighteous. The true answer of 'Why China' lies in the mystery of the western understanding of the east, not China specifically by a long shot! Everest is the easy draw so to speak, I read so many books about the mountain I actually want to climb it. This is where I think I missed the point and this is why I need to see China and the Eastern cultures for myself. Reading about it is great, but I learn the hard way and need to get my nose bloody to feel I have learned anything. This is what makes life interesting, and to my friends, me interesting. I hope this page is humorous and educating at the same time. I also hope it can be used by other people friends or not who are interested in China and travel by bike in general.
This is my first real trip...
And I know I will get fucked around somewhat and will definitely miss home lots, but I have no problems with that. In fact I look forward to it because shit! it makes good reading!!! So enjoy the web page and thank you to all my friends and family for your support. To the people who are unsupportive or smart-aleck about my intentions, fuck you!
A special thanks goes out to Matt (when are we getting the band back together?) Edwards for creating and updating this page.
This is truly appreciated by me, Mr. Gillooley!!!
Goran on top!!!