Words from Jeff - August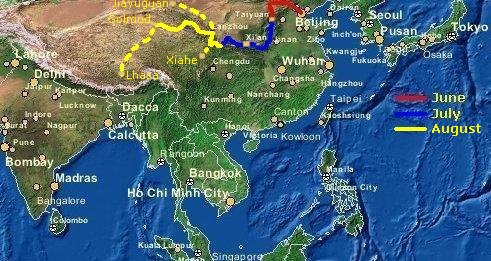 August 31st (Tuesday) Lhasa (Tibet)
Posted: Mon, 30 Aug 2004 20:13:28

I have again combined a couple of days so bare with me.
On August 29th I went for a walk in the park behind the Potatla palace. The park and lake were built by the 5th Dalai Lama who was a bit of a playboy and would venture into Lhasa in disguise. There is a poem called the Makye Ame which is also the restaurant I stayed at. Anyway the current Dalai Lama would often study here in the little temple on the lake. While there I met a Tibetan girl who studying to become a tour guide. She asked if I could help with some of the pronunciation so I said sure why not. Jessey was with another student and we reviewed the book and I helped both of them with speaking English - what I find most is people don't stop at the periods, they just keep reading. Anyway we decided to get lunch and since we were sort of near her home we went there. Her mother cooked me some meat and potatoes and also some tea. They both periodically would say to me 'eat, eat, eat' as Jessey seemed to be busy with chores. The little boy from next door hung out with me and showed me a picture of the Panchan Lama and dare I say the Dalai Lama. I was getting a little antsy so I got her number and asked if I could call her tomorrow for some Tibetan language lessons. No problem.....
Okay I left there in search of some rock carvings near the Potala palace which had no entry fee. I managed to see some on both sides of the mountain but I wasn't able to find a particular cave that had carvings from the 7th century. I then walked down to the river and then across to Sun island which has many bizarre. I was a long walk back to the hotel and after stopping to do some internet I was going to call it a night.
When I got back my Italian friend whom I neglected to mention in the previous e-mail was outside having kebobs. The previous night we had gone out for beers and had ended up at this same kebob stand. I am not sure how this came about but the worker there pulled out a packet of hash from his sock to show the Italian guy. He said this always happens to him which I thought was funny. Previous to this I had only seen marijuana growing wild in Lanzhou. Anyway a funny story about my little Italian friend. Earlier in his travels he had asked a monk to help him find a washroom. No problem, but when he started to pee the monk popped his head in to stare at his penis. I laughed my ass off when I heard this as he had to smack the monk in the head to get him out of the room.
August 30th I was brutally sick, the worst yet and was laid up all day except when I staggered over to the hospital. They were useless of course as you need to be in your death throes before they help you. Today is the 31st and I still can't find my guide - damn. Anyway I go to get my Everest permit and then should be off tomorrow. It may be a few weeks before you here anything so Colin don't eat my lays!!!!
G
August 29th (Sunday) Lhasa (Tibet)
Posted: Sat, 28 Aug 2004 20:24:12
Warning: This is quite an extensive e-mail as it covers from August 25th to August 28th.
The Golmud hotel also contains the CITS office which is the government travel office for China. I purchased a ticket to Tibet for 1700 Yuan which included a one way bus trip, 4 days accommodation and 4 days with a guide. Entrance fees and food you pay separate. The day before I left I ran into a German couple who were biking to Tibet without getting a permit etc. as they met a Swiss guy who left the previous day doing the same thing. Apparently you can ride through the check point and wave without stopping.....
The next day I heard a knock on my door at 9:30am. It was the travel lady and she said the bus was leaving at 10 AM instead of 3PM that she mentioned the previous day. I still can't believe it but I was able to get everything packed in about 25 minutes!!!! When I got down to the lobby I was informed I would travel by jeep (16 hours) instead of bus (25 hours) which kind of left me in an awkward position. I have only parted with the bike once before when I left it locked in my hotel in Lanzhou, but now it would go on a bus later in the day. I agreed to go by jeep but had to ride my bike over to the bus station. After hitting the road we crossed the first check point no questions asked. Farther down the road we met the German couple who as predicted, did not even stop at the check point but simply waved to the police. The road to Lhasa is actually in pretty good shape and very bikable except there is no shoulder. So biking at dusk would not be an option. The next check point is far away at the Tibetan border where we didn't even stop. The railway line for the most part is complete up until this point and has some trains on it moving equipment and supplies. It is actually well built and rides over every depression or river crossing with giant footings. There are some sections in Tibet but no actual track is laid down. They say it will be completed in 2006 so I suggest coming to Tibet very soon before it is overrun by tourists.
To continue, about 30km into Tibet you cross the Tangula mountain pass which sits at 5200 meters (17,000 ft), same as the Everest base camp! I felt fine when we got out and looked around but my companions were complaining of slight headaches. The last check point is just outside of Lhasa and then you are free to go. Lhasa itself sits at 3600 meters or 12,000 ft so there is a slight shortness of breath from time to time but it really hasn't bothered me.
The jeep ride (Isuzu) lasted 19 hours instead of 16 but I have heard the bus drivers are bad and rarely have a license. I also heard of the buses breaking down so now that we arrived I suddenly feel better although it sucked for the last 6 hours of the ride. We had arrived at 6am so I checked in and went to sleep. When I woke up I went to the travel agency and picked up my Tibetan guide.
The Kering Hotel is situated just outside the Barkhor market which surrounds the Jokhang temple which we visited. The temple was built in 647 AD making it the oldest and most important temple in Tibetan Buddhism. Songsten Gampo who was the ruler of Tibet at the time had it constructed over a small lake which is the center of Lhasa but it no longer evident. Apparently there was a small passageway in the temple where the monks could walk down to the water but who knows if it is still there. The temple faces west as the construction of it was paid for by Songsten's lovely Nepalese wife - he also had a little Chinese hottie as well - bastard! Songsten also had the original Potala palace built which was the residence of his holiness the great 14th Dalai Lama. Within the Barkhor market there is a circuit directly outside the Jokhang temple which is flooded with people day and night walking around in a clockwise direction. It is a very lively and clean street and were most of the local Tibetan live.
After seeing the temple we phoned to see if my bike arrived but it had not. Therefore we decided to visit the Lhasa museum and giant Tangka. I went and saw the Tangka first which is a massive mural depicting Buddhism, evolution, spiritual places and famous holy people. I think it is about 500 meters long and was completed by 2000 Tibetan artists from Qinghai, Sichuan and Tibet. The detail is incredible but it is a bit of a sensory overload so I ended up skipping the museum for now.
On a side note: Most of the people I am meeting here did not bother getting a permit and have had no problems traveling in Tibet. The travel book I have insists you get it so as not to put Tibetan's who help you in some sort of jeopardy. This is no longer the case from what I am finding as the police presence is not very visible, or least uniformed police that is.
We still hadn't heard anything about the bike so I decided to go shopping for a tent and other supplies needed for Everest. As a word of advice, they sell everything here so if you take the route I did, don't bother lugging around your winter equipment for 4000 kilometers, but it here. The only thing I would buy at home would be an altimeter as they are outrageously priced here. Something else of note is the taxi drivers charge 10 Yuan which is extortion but just a warn for you. When I got back to the hotel after several trips to and from my bike had finally arrived!!! I went for dinner at one of the hotel restaurants where they had some live Tibetan entertainment. It was pretty cool so I filmed some of it. While there I met a Tibetan born and raised in Switzerland named Sony. His dad had lived in the Sichuan province but when the red guard killed his lord, he fled to India then Switzerland. We talked about this and many other things and decided to head out for some beers. We went to a few places and proceeded to get pretty tanked - it's the altitude I swear!!! We hit two Tibetan night clubs where singers would come out and lip sync to the music - or so it appeared. Very strange!!! The hotel was locked up when I got back but after knocking on the door a person who appeared to be the jeep driver let me in. However at this stage vision is not one great senses.
Since I didn't get up until 12 the next day I missed meeting my guide. However I did meet the French lady I met in Xian in the other hotel restaurant. We talked about our travels and for the most part saw a lot of the same places. She has traveled extensively through Southeast Asia and was able to give the low down on all of the countries. She recommend Nepal, India, Thailand and Laos but most notably Cambodia. She really gave me some great tips and said it is all bikable except for entering Burma which you must do by plane or from China, so I may skip it altogether. I did some gift shopping and then stopped for lunch at the Makye Anne restaurant where I met a Tibetan man who lived in Kathmandu. The restaurant has a roof top area where you can watch the procession along the circuit of Jokhang. He was originally from Lhasa and we talked for several hours about the past etc. He said there used to be lots of street fighting in the past with swords and the like but he said people were not very skilled with them and rarely did anyone get hurt. He mentioned as well during the cultural revolution people who didn't want their homes ransacked took all of their expensive belongs, wheeled them down to the river and dumped them. He reported to me the situations in Nepal as well and said it is very safe and the road although dirt, is fine for biking. I have planned an alternate route but it appears that Nepal should be okay. There are also a great number of people I am meeting going there as well. Okay sorry for the long e-mail!!!!
G
August 25th (Friday) Dulan (Qinghai) 19KM (wow!!!)
Posted: Tue, 24 Aug 2004 23:05:15
Today was a rest day by design and it allowed me to accomplish many things among the most important was a shower! Anyway I did laundry, sewed my bag..... um pannier bag that is, as it was splitting from both sides and the old duck tape had met it's match. I also re-wrote my phrase book which had originally been written by Vivian. Vivian, I'm going to show this when I get back as you are gonna laugh your ass off!!!! The town is kind of a little oasis among desert and towering mountains, but not much else.
G
August 24th (Tuesday) Golmud (Qinghai) 67KM
Posted: Sat, 28 Aug 2004 19:34:40
Well the wind was much more manageable today but the bike decided to test the old nerves. I blew the wall of the rear tire again but this one only lasted 1500 km. I think it was probably due to running it a bit low - not on purpose - as I couldn't pump it any higher with the hand pump. I changed the tire and tube as the tube is always toast after a blow out and pumped her up. Funny enough while changing the tire I noticed one of the few remaining spares has the wrong valve stem - Doh!!! I started riding again and with a kilometer I got another flat - Doh!!! I checked the tire and rim but everything appeared okay so I changed to another tire and rode off. 5 kilometers later sssssssssss - DOH!!!! Okay the only rarity is the tape on the inside of the rim was sticking up a bit were the two flats occurred. I cut it out and placed some hockey sock tape over the area courteously of the Philly Flyers. Nathan and Brian probably remember that night well, I however only remember Nathan launching the Mustang into the snow bank at the hotel.....
Anyway I placed the last new tube in and pumped her up. This was pretty unsettling as now every spare tire had a hole and needed repairs. I rode the rest of the way to Dagur without any problems which was good but I really wanted to get to Golmud today even though it was a long way off. Before Dagur I met another Chinese man biking from Lhasa. He however had started in Chengdu and bike to Lhasa first and now was heading toward Lanzhou. There was one pass he did that was 5200 meters!!! Anyway he climbed the pecking order as he gave me a package of Oreo cookies!!!!
Dagur like the last couple of towns is away from the highway, 8km to be exact so I decided to see if I could catch a bus to Golmud. I ate at a little store by the road and when I asked for help he walked over to the highway with me. I thought he was going to flag down a bus but after about 20 minutes he flagged down a dump truck. I thought fuck it, get me out of here anyway possible!!!! Boy these trucks are in bad shape as far as alignment etc. The driver had to use both hands the whole way. It is even more desolate on the way to Golmud than the last couple of days, you have mountains to the south and grey sand in every other direction with power lines being the only sign of life. I was happy to get to Golmud and am staying at the Golmud hotel which was for a time the only place foreigners could stay.
G
August 23rd (Monday) Romahom? (Qinghai) 57KM
Posted: Tue, 24 Aug 2004 23:34:02
Heaviest winds to date. The road was flat but the journey of 57KM took 5 hours -sob sob
G
August 22nd (Sunday) Barun? (Qinghai) 108KM
Posted: Tue, 24 Aug 2004 23:30:21
I hate to repeat myself but boy is it desolate out here. I crossed two insignificant mountain passes (both are around 3000 meters) and the rest of the way was flat with some slight downhill sections. To the south, towards Tibet, lie mountains of rock with no plant life, every other directions is flat with gravel. The only thing resembling life itself is the sage brush. Barun, well actually it was somewhere else but close enough, is situated near a river which is almost dry but the area around the village is well cultivated. There are only dirt roads here and I stayed in a room behind this guys restaurant which had five beds. The shitter was disgusting but it was that or sleep in the desert. I have been reading 'Crime and Punishment' as of late and like the way it is written. I normally don't read fiction but this guy is one of the greats so why not.
G
August 21st (Saturday) Xiangride (Qinghai) 65KM
Posted: Tue, 24 Aug 2004 23:19:39
34 kilometers after leaving Dulan it is all downhill to Xiangride. Everywhere surrounding this fertile little spot in the desert as far as the eye can see. The grasslands are long gone and it has become a very inhospitable and desolate place. Tomorrow's ride should consist of 100km and another mountain pass so the rest is well received. Thankfully the winds have died down to a cool breeze which is pleasant when riding.
The rear tire has been low for quite some time and has been a psychological drag for some time now as I am unable to pump it up very high with the hand pump - side note, if your bringing a trailer, bring a floor pump! Where is leading? Well today I decided to take drastic measures and pull apart the hand pump in the attempt to join it somehow with a floor pump bought locally. As I dissembled it I broke it enough to make it useless. I spent the next couple of hours in a local cycle/motorcycle shop where me and a few helpers where able to fit the components from the hand pump into a floor pump. We had to sand down the rubber fitting which I was sure the guy fucked up as he took the knife to it. Believe or not it worked in the end and it only cost 15 Yuan.
The language her is ever changing and it now resembling in the most abstract way, Russian. The words seem to flow together now instead of the rat tat tat like in Beijing for example. There is also kind of a slight lisp but it is hard to explain. Anyway off to Golmud (staging point for Tibet) which should take a few days (400KM).
G
August 19th (Thursday) Unknown (Qinghai) 131KM
Posted: Fri, 20 Aug 2004 01:29:21
Today was a hard day, I did over 10 hours of biking and finished in darkness. I am thinking that the rest of the rides, here to Golmud will be much of the same. The trip started off by biking down to the lake at Caka Yun which was a 8KM roundtrip. There really isn't much to see except that the lake is pretty devoid of water and this must be the salt depository for the province as it is completely white across the whole lake. After eating some breakfasts I left town for possibly Dulan but that was a great distance away. Saying the wind was more ferocious today than yesterday is a complete understatement. The first 40KM climb up to a 3672 meter pass but there is no switchbacks, just constant incline. After that the wind got worse. On the descent I couldn't get going over 17KM/HR and when I hit the flats I had to granny it along at 10KM/HR. Basically if you stopped pedaling, you stopped in about 10 feet. There was also a little inaccuracy with my three maps - I carry a minimum of two. There was supposed to be several small towns after about 70KM from Caka Yun that would allow me to quite for the day if necessary. Well these towns were non-existent so I had to keep carrying on. I was desperate enough to eat my second to last power bar. I was very close to bivying but I stayed the course and thankfully it paid off with a warm room and dinner. Today was a very hard day mentally and physically, no doubt about that but it is preparing me for future rides. As Bret put it so poetically, 'shut up and ride'.....
On a side note: Dinner - double serving was 15 Yuan, Room 10 Yuan and breakfast 5 Yuan. In Canadian, $5.
G
August 18th (Wednesday) Caka Yun (Qinghai) 89KM
Posted: Fri, 20 Aug 2004 01:16:37

As soon as you leave Heimahe you are on a good climb to a 3817 meter pass. The distance is about 20KM and thankfully there is a lot of switchbacks. It's definitely not easy but the road is good and there is little traffic. My Chinese map had it marked with an X inside a rectangle but I figured it was a bridge or something - my bad. Now that I see this I realize there is another big one before Golmud as expected - now I know where it is though. I had to stop a lot as you don't feel out of breath so much as sapped of energy. After the pass you descend 20KM in a nasty wind but luckily it is steep enough that pedaling is not really required. The next 40 is relatively flat but the winds in this valley are gusty and unforgiving. Completely serious here, it took me 3 hours to cover 40KM on the flats. It was very demeaning mentally. Anyway Caka Yun sits 4KM away from the lake of the same name. There is very little here and I find regardless of the how the map marks the size of these cities, they just keep getting smaller and smaller.
On a side note: It seems every house, farm or hotel has a vicious barking dog attached to a 6' chain. They honestly scare the shit out of me.
G
August 17th (Tuesday 10 weeks!) Heimahe (Qinghai) 63KM
Posted: Fri, 20 Aug 2004 01:05:12
I had to spend another day in Naidao as it was so relaxing and the countryside is incredibly beautiful. Never mind the bird sanctuary, come here just to sit and relax the soul. I spent the morning reading about gud ol' Robby McGreager and drinking some tea beside the river on the outskirts of the yurts (what a rhyme). They were playing some crappy local music so I decided to give them my Metallica CD (Binge and Purge) I bought in Lanzhou. I didn't know it when I bought it but it is a full on video of a concert in San Diego, but I'm thinking I will get sued by Lars if this gets out. Funny enough they pretended to like it and as I walked away from camp to visit the monastery Metallica was blasting full bore - a very heart warming feeling that left a tear in my eye. This is definitely the land of extremes as it was freezing last night but I think I overdressed for the hike. There was a Stuppa on the top of the mountain so I hiked right up the middle on the billy goat trail. I wandered around the backside of it were there was no hint of civilization and set up a mini camp. I had pop, crackers and Rob Roy - I think Karen can truly appreciate this, the reading part of course - and I laid down and read for several hours in my underwear as it was quite hot. After that I walked down to check out the monastery which appeared to be quite new or rebuilt. The monks were eating so I went back to camp where Metallica was still playing - werd!!! I went to read some more but this time it was with a few beers. I then sat with the people who ran the place to converse a bit. There are two families sort of running the show here and the little boy form one of the families had caught a bird earlier in the day. I tried to convince him to let it fly away but when he threw it in the air it just fell to the ground with a thud. When he was distracted I hid the bird so it could die in peace. Anyway he was at it again, trying to catch another bird so I gave him one of my prayer beads from Laboleng with the promise he stop chasing the birds. It worked, but being a kid it was probably forgotten the next day. Shortly after this girl who had the previous day started a water fight, decided to soak me. Well I played along for a while but everyone started getting in on it so I went and hid. They went at it for a good hour while I dried off. That night I sat and played some cards with Lie Xiu Fang and two Chinese tourists from Beijing. Lie Xiu Fang was the girl who convinced me to stay at the yurts and who happens to speak English. She does tours to the Bird Sanctuary but let me talk about her in a bit. The Chinese tourists were backpacking across China and though one had to go back to Beijing the other was heading to Lhasa. They were actually really nice guys and since they were tenting it and the weather looked ominous I gave them one of my tarps. I taught them crazy eights while we listened to you guessed it Metallica. I apologize if I am jumping around a bit as I am combing 3 days into one.
Back to Lie Xiu Fang. She is currently residing here during the summer to make money guiding. Although these people are kind of like family, she is very reluctant to live here. The main reason being that the drink, everyday, until their drunk. She doesn't drink at all and despises the atmosphere when they get this way. When I day they, I mean everyone old enough to drink. These are nice people and I'm sure a product of their environment but it is still hard to live this way. This is now different from any country where there isn't much to look forward to and the booze is surprisingly cheap. Anyway at a young age she lost both of here parents and was raised by her grandma. She can't afford to go to school so she learned English on here own by buying books and studying them in here spare time. Through this she was able to pass the guide exam in Xining. I offered to buy her some books but she is of strong character and flatly refused. I therefore had to offer here my 'Chinese Phrases' book and tape some money into the map at the back of the book. I hope she doesn't take this the wrong way as she is not a person to be pitied. I hope some opportunities come her way sooner rather than later as I'm sure she can make them for herself in time.
Okay so in the morning I broke the chain and cleaned up the bike again and headed of for Heimahe. When I was a few kilometers outside of the tiny town I met two more Chinese backpackers who were walking around Qinghai Hu! The distance is 400 - 500 KM so I have to bow down to these guys. They really have some guts and have no doubt they will do it. I hope their backs and feet don't suffer to much.
G
August 15th (Sunday) Niao Dao (Qinghai) 92KM
Posted: Fri, 20 Aug 2004 00:25:21
The scenery was the most stunning I have seen in China to date. It was sunny with some clouds and the clouds were hovering so close to the ground it felt as if you could touch them. The road was more or less flat and the countryside was rolling grasslands speckled with yellow and purple flowers with various farm animals roaming around. Shortly after leaving Gangoa I got a glimpse of Qinghai Hu (Hu means lake). It was a gorgeous turquoise color which reminded me from a distance of the Pacific ocean at Hawaii. I said 'from a distance'. You eventually turn off the 315 highway to the 206. It crosses over the railway tracks and then bends to the right, STOP HERE! This is about as close as you can physically get to the North side of the lake with out jumping barbed wire. You can't miss it as there is a pole with prayer flags and the beach is littered with stone mounds. After that the flies start to number in the thousands, so just ride and try to ignore them. The actual bird sanctuary is 16km east of the little town of Niao Dao and there is no accommodations there so book a place as there is only two pricey hotels. The other option is to stay in a yurt which I did and it turned out wasn't that bad. At the time I asked some locals if there were hotels at the sanctuary and the said yes - bastards. One thing I find with a lot of the people I ask questions, they feel a need to give you an answer regardless if they know the answer. When I got to the sight I was having problems communicating with anyone so I threw the book at them literally. After this I got some attention and boarded a bus to the two vantage points. The first one is useless unless you have binoculars and the second one is okay but it's debatable if this is worth the 60 Yuan. Anyway there is a Tibetan monetary on the hillside above the town which I will check out tomorrow. The sunset was so incredible I had to have a beer.
G
August 14th (Saturday) Gangoa (Qinghai) 106KM
Posted: Fri, 20 Aug 2004 00:08:59
Qinghai finally opened her heart to me, but she also showed her wraith. When I awoke this morning I was a little tired as they blasted music from the hotel club till about 3AM. Actually I can only assume it was a bar or night club and my guess is it must be the only one in this tiny little town. It was pouring rain most of the morning and now it is 9AM and lightly raining. According to the map I could do a 63KM ride or continue on to Gangoa which was over 100KM. The elevation here ranges from maybe 3300 - 3800 meters which is kind of a guess as I know Qinghai Lake is sitting lower at 3200 meters. Even though it was raining the surrounding mountains and grasslands were incredibly beautiful. Everything is covered in grass and maybe this is somewhat like the Scottish highlands only 2000 meters higher? I just happen to be reading Rob Roy right now - ah he wuz a gud lad!!! The mountainside is maybe 200 meters above the road so you can see for quite a ways. In some places the road was the highest elevation. There is plenty of livestock to see such as lamb, cattle and of course Yak! The odd yurt also dots the countryside but honestly you are really out on your own out here. The highway was excellent as it appears to be very new and since this is where they do the bike race it only makes sense. As I got higher up the wind and rain picked up until it becomes miserable. This is when to my amazement I saw another cyclist plodding up the highway in the opposite direction. At this point I crossed the road to meet him, no need to look before crossing as we were the only sorry sods out here. I can only assume I looked to him as he looked to me - eye's of desperation, snot running down my nose and a mixture of sweat and rain dripping off my face. He was Chinese and had left from Gangoa this morning which he stated was about 60KM away and mostly downhill - not!!!! We exchanged some advice about the roads and then headed off as we must have got tired of seeing our reflection. Shortly after the wind really started to pick up as the road was the highest point and since I had removed my pants earlier (I was overheating) it was getting cold. I was soaked right through fairly quickly and kept my focus on the white line beside the highway as a distraction and to avoid the puddles as the line is just a fraction higher than the road. I struggled for the next 20KM until I came across a sort gas station with now covering. I asked to go inside to put my pants on and the attendant, bless her heart, motioned me inside. After getting my pants on she invited me into the next room which had a stove and hot water - thank you! She served me three cups which I cherished and seemed pretty surprised that I wanted to continue on my journey out in the miserable weather. Another 40KM and I reached Gongao but I swear the last 15KM nearly killed me. I missed lunch as the town which I intended to stop at after 60KM didn't look like it had anything hospitable - bad mistake. Anyway I crawled over the last 4KM and was brought down to the level of counting the 100 meter markers (thank you for putting those there as I can't see any purpose to them for cars) for motivation. The ride ended with a little pathetic hill but I swear it was the hardest yet. Surprisingly enough or maybe not surprising at all, this little strip of a town about a kilometer long has two internet cafe's. Anyway this groups in with one of the hardest days.
G
August 13th (Friday) Huangyuan (Qinghai) 73KM
Posted: Sat, 14 Aug 2004 05:37:15
Today was better!!! The temperature is dropping rapidly, and is somewhere around 10 degrees Celsius. I finally brought out my hiking boots and repacked my bags so the summer cloths are at the bottom of the main pack. I m actually wearing long underwear today so maybe it's colder than I think. However this is very advantageous to riding as I am drinking about 1/3 of the amount of water and I barely sweat which helps the saddle soars. The altitude has really started to kick in but only when miss a breath because your drinking water or exerting yourself a bit too much. So far Qinghai as mentioned in the previous e-mail hasn't shown her true colours and I have only seen polluted streets etc. which seems to come mostly from vehicles. I did get some glimpses of grasslands though so the lay of the land may be changing very soon. I also opted to take the Northern highway around Qinghai Hu (Lake) which is the #315. I will join up to the #109 near the Bird Sanctuary which takes me to Golmud and ultimately to Tibet. On Fridays if your hotel has a night club, you won't get much sleep, just an after thought.
G
August 12th (Thursday) Chinghai? 76KM
Posted: Sat, 14 Aug 2004 05:27:54

Lets not kid around, today sucked!!! I got the wrong directions twice which added 40KM the ride and worse yet I am actually now further away from the intended destination than when I started the day. I couldn't make the alternate destination as I got a flat on the trailer again and decided to head back to the last town as it was late in the day. Damn I was mad! But lets begin with the first half of the day as I usually write what's fresh in my mind and then backtrack which can make for hard reading.
I woke up and walked down the hill to the Ta'er monastery but couldn't find an English guide. I did get a map however so I bought a ticket and started checking out some temples. The cool thing about this site and Laboleng is you walk around the site without buying a ticket to get a general feel of the place. You only need a ticket to enter the temples. Even though I did not have a guide it was okay because they had signs in English, Tibetan an Chinese at the major temples. I communicated with one of the old monks that I biked here and he wanted to feel my legs. That pervert! I guess you normally just see my lower legs which are kind of skinny because he was amazed by the size of my..... hey, hey, --- he's monk remember. The second monk I met was a young guy and he took me through a doorway in one of the temples to his humble abode. It was very tiny but he had a cell phone - werd to ya ma! He then proceeded to make some Yak butter tea for me, umm it's not very good but I knew that from all the books I read about Everest.
So the Ta'er Si didn't blow me away or anything but it was cool and relaxing. Now lets get to the biking because I am still bitter. I first started off south as there was an unmarked highway that cut a day of travel out of the itinerary. When I thought I had got there I waved this car down as it was a completely muddy road and I didn't want to waste any time. He said I needed to head back to Ta'er Si and veer off to the highway I passed on the way there. He seemed so convincing I did and the highway was nice and everyone I asked seemed to point to my destination. Well deja vu struck as when I got near the downhill I realized it took me right back to Ta'er Si. 30KM down the drain! The second wasn't as long a detour but I decided to quite the shortcuts at this point. This brings me to blowing the tire which actually had a slow leak. I went back to the little garbage town and started looking for a hotel - yes FADIAN - HOTEL - SLEEPING GESTURE. This seemed to stump everyone but they always managed to laugh at me! By the time I found a hotel I was in a fowl mood (yes like bird - fuck off eh!). Okay so I went and bought a couple of beers and came back to fix the tire. The culprit was a little piece of metal half a centimeter long. It's always a relief to find the cause instead of hoping it doesn't happen again. Anyway there was this really nice kid was watching but obviously wanted to help. I remember being the same as a kid, just a little shy. So I got him involved and I started changing my mood, maybe it was the beer. Anyway I handed out my chopsticks to all the kids which they thought was great. This was a little tiny place, so no shower. Anyway I went to a restaurant and ate any enormous amount of food which was really good. I am glad this day ended on a good note.
On a side note: There was a big group of French people at who were running at various places within China, I got a brochure but gave it to one of the kids.
G
August 11th (Wednesday) Ta'er Si (Qinghai) 33KM
Posted: Sat, 14 Aug 2004 05:05:44
It proved very difficult to pinpoint the location of Dekster which is the birthplace of the Dalai Lama. It is also known as Tengster and Takster but those didn't help either so I gave up on that one as there were too many conflicting opinions. I am currently at Ta'er Si which is one of the six great Tibetan buddist monestaries. I have not visited the actually site except for a pass with the bike while looking for the hotel but I will see it tomorrow. After that I am off to Qinghai lake to see the Bird Sanctuary - Niao Dao - which is probably 4 days ride from here. So far the Qinghai province hasn't impressed at all at it is very dirty for such a small population. There was also nothing really to see except maybe the outside of a prison in Xining so the monestary is the only real draw so far.
G
August 10th (Tuesday) Xining (Qinghai) 120KM
Posted: Sat, 14 Aug 2004 04:59:16
I have now been in China 9 weeks and have covered 3126 kilometers by bike.
The ride today was basically rolling hills with very bland scenary, so it was ofcourse uneventful except the flat I got on the trailor. I was supposed to stop in Ping'an county as the Dalai Lama's birthplace is supposed to be nearby but only one person heard of the place and said it was 50KM away in a different direction then what is in my travel guide. Xining was only another 36 KM from there so I decided to keep going and try and find out more info there. Short e-mail eh!!!
G
August 9th (Monday) Honghashwan? (Gansu) 115KM
Posted: Sat, 14 Aug 2004 04:48:46
Wow, I passed the 3000 KM mark!!! Today was a very flat ride and since I topped up the old tires with air in Lanzhou I made really good time. I finally had a role reversal as far as the stunned look I get when I pass someone on my bike. Two Chinese people, husband and wife passed me going the other way on two mountain bikes geared up with huge panier bags. I was gonna keep going but I had to go talk with them. They bought bikes in Lhasa and where riding to Lanzhou and then somewhere else. They took the exact same path I am taking except the downhill route. They also had a dog a little smaller than Bandit size in cage on the back of the guys bike which I had mixed feelings about. He said riding in Tibet is fine as far as safety and the roads are similar to the 109 highway we are currently on. He did mention however that there is a huge hill before I get to Golmud so be ready. Anyway it was great to hear from someone who took the same path, I however cannot enter Tibet on bicycle so I will bus from Golmud to Lhasa.
G
August 8th (Sunday) Lanzhou (Gansu)
Posted: Sat, 14 Aug 2004 04:40:48
Last night kind of ended on an hilarious note. It's a 'had to be there one', but I ate dinner in a restaurant on the North Shore and after everyone had left the owner came over and joined me for a beer. He gave me a rid home and someone cut him off he yelled 'Fuck Off!!!. I as laughing my ass off because he didn't speak any English, well except Fuck off.
I was able to collect a spare tire for the bike today and rode around the town for bit. I really like Lanzhou, there are many reason but the most obvious is the people are un-pretentious. Since the city is also surrounded by mountains which has curtailed the development of the city and what has been built is structured well as far as layout of the city. Today I went for a pig skin ride, no I didn't ride on a bunch of footballs but actually blown up pigs skins or maybe lamb? It was quite uneventful but I had to do it just cuz. I went up to Baitishan park again as I really liked it the first time and I had to try the suspension ride. I took the gondola up this time and rode the suspension line across the ravine which was cool. The funny thing about the ride was there as no gradual run out but a kind of shock absorber on the other side. This happens so fast the _expression on your face must be priceless. We used to have something similar at the old Southarm hill in Richmond, the only hill in Richmond! Why did they remove it anyway, it was the only place above sea level in the city? Good day of relaxation after that damn train ride!
G
August 5th (Thursday) Jiayuguan 700KM (Train)
Posted: Wed, 11 Aug 2004 05:29:26
Mark my words, taking the train sucks!!!! I haven't been on an extensive amount of train lines but for example the train system in Europe is 100 times better once boarding the train. Please understand that this is a bit of a rant but I really do this when common sense is uncommonly blind.
Okay the seating options as I understand them:
Hard Seat - No real explanation need here, but read on for great detail.

Soft Sleeper - This is a bunk in an area of 9' cubed with a total of 6 bunks and the area is not enclosed.

Hard Sleeper- Sounds misleading unless you think of Bubba. This is what you get on the European lines whenever it is a sufficient distance. It is similar to the soft sleep except bigger, has a door enclosing it and the middle bunk folds up to allow seating.
The cost doubles from hard seat to soft sleeper but I am unsure of the cost difference from soft sleeper to hard sleeper. I took the soft sleep from Lanzhou to Jiayugaun which left around 8PM and arrived at 11Am the next day. When I first boarded the windows were open and fans were blowing in each little compartment. An hour later the shut the windows and the fans turned off - bastards!!!! It became stifling and I couldn't sleep so I went to the cafeteria to read. Around 1AM it started to cool off so I finally got a little sleep.
On a side note: Every police officer I meet seems to be overly friendly and concerned for my well being. Is there something I don't know about myself? Anyway the one on the train thought it odd that all I brang was a small bag - everything else I left in Lanzhou.
Anyway I thought the soft sleeper sucked. The only thing in Jiayuguan is the great fortress which is cool but I still am debating whether it was worth the suffering, please read on....
After exiting the training I walked over to buy the return ticket which left at 5PM but all they had was the Hard seat. Well I bought it - literally!!!
The walls around the fortress are 33', the same as Xi'an's city wall but they are only about 5' wide. There is also a surrounding wall which the describe as a net wall which attached to the Great Wall. The two cool things I did here were the archery range. You shoot from the top of the wall at some unwilling Tibetan monks in the courtyard. I got him in the upper arm and neck. the second was a short camel ride outside the East gate. Oh come on I had to ride the poor beast and funny enough the caretakers were taken aback when I petted and spoke softly to the camel after the ride. Hey I respect all of my ride's - anyway the camel was just as surprised.
Okay we had the good and bad, now for the ugly:
I just barely made the 5PM train, it literally started moving as soon as I stepped on. I sat with 5 lovely ladies from Amway and this wasn't the first time I met Amway people in China - it's kind of disturbing. The cafeteria didn't open until 7PM but the ladies graciously fed me - I must have the appearance of a lost puppy to older ladies.
The worst part of the Hard Seat is the inability to actually sleep as for some reason they leave the lights on the entire time, yes 5PM to 7AM - fuck!!!!! looking at my lovely Amway ladies and the people in the general vicinity, everyone is suffering. I mean these people suffer bad and I'm sure they don't do this once and then never again like me, they probably can only afford hard seat. By the time I arrived in Lanzhou my ankles were swollen - this is not a word of a lie - and I'm a skinny fucker, where did that fluid come from? It reminded me of when my sister whom I miss greatly was giving birth to my beautiful little niece Taylor Ann. However I am not pregnant.....it sucked....it sucked......
Okay but after going to the hotel for some sleep I find myself in the East Wind pavilion in the Baitishan park 500 meters above the Yellow river having a cold beer in a nice cool breeze. Ankles are still swollen though....
G
August 4th (Wednesday) Lanzhou (Gansu)
Posted: Wed, 11 Aug 2004 04:51:32
My first impression of Lanzhou is quite different from the expectations I got from the guide book. It is kind of dirty when entering the outskirts which consists of two smaller cities but it is not dreary. In fact it has a serious pulse!!! I am relaxing in one of the 6 barges they have moored on the south side of the Huang He (Yellow River). The river flows at a pretty good clip, maybe as good as the Fraser in PG but the water is brown due to the amount of loose earth. In fact it has a similar feel to the barges on the Frankfurt except I am being served but a Chinese man instead of a blonde bombshell. I booked a train ticket to Jiayuguan which is a giant fortress at the end of the great wall 700KM north of here. It was surprisingly easy to book a soft sleeper ticket (I will explain later in great detail) but it is a small station and no one was there when I booked it. I also applied for a 30 day extension on my Chinese Visa which ends on the 7th. Maybe it's the river, possibly the 5000 ft mountains, but I get a really positive vibe here.
Shortly after writing the first tid bit for today, a large river boat pulled up and was heading upstream roundtrip for 10yuan. I hopped on right away and as soon as I took a seat this little whipper snapper with rotten teeth came up to me to try and communicate. His mother approached me shortly after and she spoke pretty good English. She said the kids wanted me to sit with them so I obliged and we started talking. There was a little girl there as well and her mother was friends of the boys mother. Turns out they where Christian which is only the second group of Christians I had met on the trip. They were very friendly and we spoke a great deal. As most rides anywhere in China if two boats are going the same way and neither is full, they pile everyone onto one boat. So after boarding and continuing the conversation she asked if I didn't mind meeting some more of her friends after the ride. When the boat moored we walked to yet another boat where I met her husband and some of their friends. They fed me of course and we talked about religion for a short while, her husband was prodding me about being lonely and who do I talk to on the road..... the frog's of course!!! Anyway he realized I was very firm on the matter and granted me freedom. They were really a great bunch of people and it made for a really nice day!
August 3rd (Tuesday) Lanzhou (Gansu) 76KM
Posted: Wed, 11 Aug 2004 04:42:08
Last night after finishing my daily notes, I went to pay the dinner bill at my hotel. At first they were going to charge me 33 Yuan and then the price changed. No one could speak English and of course they didn't understand me. Eventually the owner came over and said in broken English 'I give you'. Ohhhh... thank you!!! I think I get respect or sympathy from that bike of mine, however I should have loaded the back with cotton balls. He mentioned going to the Bingling Grottoes and he could arrange a boat ride for me which sounded cool. the room itself was nice and new and even had satellite TV. However it had no shower so I had to bath using a bucket yesterday, at least the water was warm. A lot of places don't have hot water during the day and I'm not waiting in my bike cloths till 8PM for a shower. The room was a little pricey at 120 Yuan and had no fans or AC so I had a pretty restless night although the temperatures out west are generally cooler in the evenings.
This morning the owner arranged for a fast boat to pick me up at 9PM. The lowest he could get was 300 Yuan ($50CDN) which I agreed to as I really heard the ride was very cool. The ride took an hour so even in Canada this was an expensive boat ride but I didn't care and believe me it was worth every penny! Most of the trip is kinda boring but the last kilometer is in a tightly knit canyon which I totally agree with the travel book, worth the price of admission. It appears they are building a small hotel here I think but anyway there are a few people trying to hawk you things a little aggressively but you quickly enter the canyon after being dropped off. At this time of year the riverbed of this canyon is completely dry and there are jeep rides up to the upper Tibetan monastery for 20yuan. I was on a limited amount of time as the same boat that gets you there takes you back. there are little Buddha carvings everywhere and one 25 meter giant Buddha totally carved from the stone. There is also a beautifully carved sleeping Buddha on the other side of the bank which is quite relaxing to look at. The entrance fee is 30 Yuan, but for 300 Yuan more you can visit caves 169 and 172 - werd! I had rode along with some Chinese tourist on the way there and met up with them as I exited the canyon toward the boat launch. They had purchased some hard boiled eggs and insisted I join them which I did graciously. When we got up to leave two of the guys split off and told me to follow them. We walked up to another temple inside a cave just up the hill from the shops. They did some praying and I looked around. When we exiting I noticed a Tibetan monk off to the side so I smiled and waved. he became extremely agitated and came over and bitch slapped me. I was a little disorientated at first but quickly pulled his robes over his head - hockey style - and pummeled him. funny enough the two Chinese guys came over with a small group of children and started kicking him as he lay on the ground. They were waving Chairman Mao books - showed his ass!!!!
Okay... seriously he was totally excited and waved me over to him. I followed him up a a hill into an enclosed little shrine area. There was a large prayer wheel, a mini shrine and a big white Stuppa. For the first time in my life I actually knelt down on the prayer matt and lit some incense. Everyone knows I am not religious and I felt no obligation to do what I did, it just felt right, so I did. He added some straw and turned the incense sticks on their side to burn more I guess. Everywhere else the incense sticks are hawked by aggressive sellers who have no connection to the sacred site you're visiting which I hate. As they burned he began chanting and bowing to the shrine which had a picture of the living Buddha. I filmed a little bit of this but mostly watched.
He then gave me a the one Chinese tourist who followed a little pendant necklace. For the first time I donated some money but I did not feel obligated at all, I just felt it was going to a really genuine purpose. The monk had me sign a book which looked like other people who had donated money etc. Sadly people put the amounts donated beside their names, I did not. The monk was short a pen so I graciously donated my 'House Keeping By Kathy' which was donated to me by James Conroy in NJ over 2 years ago!!! I expect another one in the mail soon, either from James or my bud Alana who can maybe steal one.
Upon leaving I spun the prayer wheel once around and then guy hugged the monk as he did the same with me. We actually shook hands and hugged 3 times I believe. It felt so awesome to meet such a genuine person in such a far away and remote place. Generally you have to keep people at a distance for a while at least when you travel, but here there was no need. I wanted to cry when I left but I just held it inside.
The boat driver dropped me off at the hotel around 2PM which was 2 hours past checkout. They said it was okay so I asked how far it was to Lanzhou? The general consensus was 60KM but the owner drove up and said it was around 40KM and he was driving there. I figured I could do it even though late in the day. Of course the actual distance is 72KM from Yonjing which was 2KM away. I rode to Yongjing and grabbed some dumplings in a soup with a fly - another first!
I didn't know the true distance to Lanzhou until I climbed up out of Yongjing (big hill) and saw my first road sign in 3 days. Road signs are best in Shanxi so far, worst in Gansu as there is usually no distance marked. I climbed for another 22KM but the highway is brand new and if I wasn't so tired from the previous ride this one would have been okay. Honestly though it is a great highway and must be pretty new. Fortunately 45KM out of Lanzhou it has a serious downhill and basically you don't pedal for about 35KM!!!! There were only two tunnels, one big one at the start of the downhill (the crest is just before the entrance to the tunnel - sweet!), and a 50 meter one. Just outside of the 50 meter one there was truck facing perpendicular to the road. I stopped and checked it out. It had rolled shortly after exiting the tunnel and the little flap you see on bed of dump trucks behind the cab must have saved this guys ass. It was bent flat against the roof of the cab but the cab wasn't really damaged. I stopped just out of the heart of Lanzhou as it got dark but good ride.
G
August 2nd (Monday) Yongjing (Gansu) 87KM
Posted: Wed, 11 Aug 2004 03:57:23 To put it poetically....
That was the hardest Mother F....... ride so far!!!!
Well I had to be honest for I need sympathy and of course if any other cyclists ever read this. The 213 highway from Linxia to Yongjing is currently under construction and even when they finally finish it, it will seriously test your meddle. Linxia sits at around 2000 meters and you have a flat ride for about 10KM. Then you hit an extremely brutal hill for a good 5 - 6 KM which I in fact grannied most of it, and for a few unforgiving parts I had to stand up off the seat to keep momentum. When I was close to the top I stopped to prevent myself from puking and possibly wiping out during the process. Ironically the bike dealer in Lintao said this was a bad road but I figured how would he know? No one in China travels more than 100KM away from home. I continued on till I crested the hill which became a running ridge line. There was constant climbing with short shoddy downhill's after that. The road becomes gravel mixed with pavement at the turn off for the 212 highway to Lanzhou. This is loose and slippery and in some places the rocks were rounded off like the ones you find at the beach, to put it mildly, this was quality suffering! It lasts for about 50KM and then begins to descend into Yongjing. The descent is partially paved and my guess is it will be completed in the next month or two. Finally near Yongjing I got my first look at a really large lake which I don't think was totally man made as the damn looks pretty new and the Bingling grotto is 1500 years old which is at the south end of the lake. the 213 highway literally crosses the lake on the map and I found this is done with a short ferry ride to the opposite side. There was a little resort on the other side so at the top of the boat ramp I made a left (more like a u-turn). Dad I know this is a fresh water lake but boy would this be a great spot for an English fish n chips place! Tomorrow I travel to the Bingling Grottoes which is 3 hours by boat.
G
August 1st (Sunday) Xiahe (Gansu) Elevation 3000 Meters
Posted: Wed, 11 Aug 2004 09:35:12
I'm not sure if I have vertigo today as I don't have the Ontarian litmus test with me (sorry Craig!). I took the bus to Xiahe (pronounced Shaka as in Zulu) which sits around 3000 meters. The surrounding mountainside ranges from 500 - 1000 meters higher and is mostly grassland. To put it in trip terms, it is just less than half the height of Everest. Two things I forgot to mention last week. The first being the leaping and crawling pebbles on the highway. I tried to avoid them the best I could but I have a long wheelbase and three wheels and some of those damn frogs towards the middle of the road instead of out of my path. The second thing was I witnessed my first Chinese argument. Now the Norwegian's I met say they say a couple fights etc. but I hadn't seen anything close until that day in Longxia. I had just checked into my hotel and heard this sound like a distressed dog or something. I kind of ignored it at first but after taking a shower I had to look. It was a lady trying to get at this old man while her husband appeared to be restraining her. This was on the stairwell of the next building so I had a great view - not that I like these things but I couldn't help but watch. This lady was hysterical to put it mildly. After a while she walked down to the next floor, so I guess these people were somewhat neighbors. Anyway the wife of the old guy came out and started egging her on again. Okay they didn't go at it but they were yelling at each other and the two husbands were kind of like - we don't know these women. Anyway I had to stop watching after about five minutes of turmoil. Okay today I took the bus to Xiahe as it was 100km out of the way of my itinerary and my visa is up soon, so I need to get to Lanzhou within the next 5 days. The bus ride was incredible though as the mountainsides are hugs and a river about 40 feet across is flowing down one side at a pretty good velocity. I sat next to a very friendly Italian couple (The Givrdana's - I hope I got that right) who were busing and training it across China for the second time. We exchanged mailing addresses and they said I should visit. On some of the mountainside were grasslands with yurts on them, and apparently not far from Xiahe (20km I'm told) you can camp out in one. The population here is 50% Tibetan and I actually met my first Tibetans on the bus ride. We didn't say much but they were very friendly and I let them look at my map. I grabbed a meal as soon as I got into town and then walked toward Laboleng monastery which is one of the six important monasteries in Tibetan Buddhism. I few blocks up I ran into the Italian couple again and they bought me a beer. I left an walked around the outskirts of the monastery and crossed the river. I walked up the mountainside to take a couple of pictures and then proceeded to walk down to the prayer wheels cover the circumference of the monastery. I walked into a court yard of one of the temples which I think I was supposed to pay for but no one was at the ticket both. Anyway I walked around the temple spinning the wheels and then continued spinning wheels on the outskirts again. An old monk saw me spin one of the large wheels which felt like the price is right and point to my arms like I was strong. We both had a good laugh at that one. He kind of followed me around for a bit - I thought Chinese was hard but I don't know a lick of Tibetan. On the northern outskirts there really isn't much to see except these kind of prison sweatboxes that were up in the hills. I later found out they were used for meditation. I walked all the way around and back through the centre of the monastery which brings you to kind the entrance and where they have the big festivals. I was fortunate enough to get there just when the English tour about to depart. The guide was a monk (all monk's are Tibetan of course) and very friendly. He had taught himself English and 3 other people joined or group, two Frenchman and a man from Singapore. The tour was free and by the way it is 31 Yuan to enter and the bus was 33 Yuan roundtrip. There is definitely a meekness about the monk's nature and they seem to tolerate the Chinese by just shaking their heads. Maybe they figure the Chinese are doomed or wonder how they ever were oppressed by them. Anyway the tour was very cool, very humbling and very relaxing. The government currently limits enrollment to 900 monks which doesn't include teachers which brings the population here at any giving time up to 1500. There is never space available, there is always 900, so the monks have built minor monasteries in the surrounding area to allow for more enrollment and teaching. The main subject taught at Laboleng are philosophy, Astrology and medicine. The temples themselves are pretty cool and well used. As suspected they were all destroyed during the Cultural Revolution. This really gave me a taste of Tibet and I can't wait to see more. This is a can't miss site.
G