Words from Jeff - July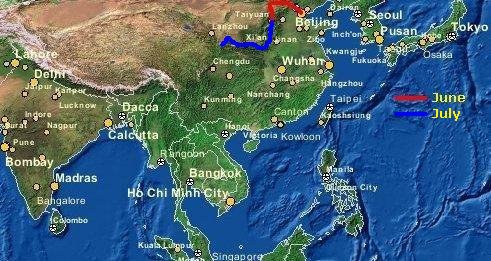 July 31st (Saturday) Linxia (Gansu) 110KM
Posted: Wed, 11 Aug 2004 10:07:18
I don't know where to begin with today's synopsis. The first half of the day was an eye opener in a positive way, and the second half of the day was the most difficult day to date as far as communication goes. Yesterday I had finally found the elusive 16" rim which resides on this fold away bike built by Giant. I tried everything to get this guy to sell me the tire but he wouldn't. Finally his niece came down to try and help but we were not able to resolve anything as he wanted to call the factory to see if the part was available (it was 7PM). We all agreed that I would come back today and try again but my brain was functioning to well as this is Saturday and the chances of the factory being open were nil. They were very nice and tried to help but we couldn't get anything done. Now it occurs to me if you sell a product, especially something with a short lifespan that you also provide parts for it or at the very least are able to order parts very easily. This concept does not seem to be understood in China. I wonder what the car dealerships are like? Oh the headlight burnt out, too bad we don't carry headlights and have no clue where to order them from. By the way what does order from factory mean anyway. After that I hit the road and the thing is it's not there fault and they really tried to help so I wasn't at all upset, I just don't understand the thinking. So today's ride was going to be a bit of a mystery as I was taking an unmarked road on the map but it saved me probably 100KM. When I got to the turn off I was pretty hungry so I stopped at this little place and this guy made an awesome meal. The cost, nothing cause he saw my bike and I guess he liked me. The meal was also quite massive as it had a full omelet on top of noodles. Meals have been costing around $1 CAN lately and noodles is the usual meal, but they are always different in each place and always tasty. I can't seem to find dumplings anywhere in Gansu! The mainland Chinese sure give me mixed feelings, some like this guy are so generous and friendly and truly genuine. The other extreme is arrogant ones who mock foreigners - buddy you don't know your history do ya? Anyway this is the extreme stereo types as many are also very shy towards foreigners. After that incredible awesome meal I struggled back onto the bike with my pregnant belly and headed for Linxia where I would stay two nights. Shortly after leaving I crossed a large river and took some photos - really I did. There was a little dude there and we made funny faces at each other so I took a picture of him as well. He decided he wanted to ride with the big boys so he followed me for quite a way, maybe 5 KM? He was a real nice kid and I conveyed that I was from Canada but other than that we didn't comprehend each other very well. At one point the poor kid bailed, so I stopped and waited for him, I didn't laugh to much later but it was pretty funny. I'm curious to what consists of his life from day to day. Shortly after he stopped these two cheeky monkey's started to ride alongside me. The guy that was riding the rear rack was mocking me to catch them and yes pride got in the way a bit. I passed the bastards easily but to my dismay they quickly caught up and gave me a good run for the money. I had them on the hills with my 24 gears but they seemed to catch me on the flats. I finally decided to go all out to discourage them and this seemed to work but it left me tired. Those little shits!!!!! Okay I know China is diverse but this part of the country is almost completely Muslim. Every little town I passed had a brand new Mosque or one being built. I'm sure this is due to religious tolerance that is starting to come about very slowly. Before this I had only seem the Mosque in Xian. No everyone is donning a little Muslim cap. Around 80KM there is a massive hill but it was all downhill in Linxia. I booked a hotel and tried to explain to the hotel staff I needed to get me laundry done. They thought I wanted to do it or one of the workers to do it by hand. Hmmmmmm 400,000 people live in this city, I don't think a laundry mat is out of the question. Anyway I gave up on them and started walking. I found one about 3KM later but they would wash my underwear??? I was like grab the whole frigging load, through it in, forget about separating colors, this is bike cloths.... anyway I really don't get it or just explain very poorly. Also of note, laundry isn't cheap in china and in fact cost around the same as Canada for what I was doing. Actually more. Okay so I was a little pissed after that little drama and seriously if I hand you a bag of dirty cloths and make a scrubbing motion with my hands what do you fucking think I want done? One group of people pointed me to the barber shop!!!!! Okay enough ranting, I grabbed the local dish which is meat, vegetables and noodles in a cat iron pot that they cook for you when you point one out. It looked more appetizing than it really was but it was okay. Okay I have one more rant but this one I can understand. I have spent a good deal trying to explain long distance code, but not even the operators seem to understand. To be fair though, in these small towns I'm pretty sure they don't make any calls outside the country or even county for that matter. Canada is 001 for anyone wanting to know. Finally I am dying for a Keg Steak - that's all I can say!!! G
July 30th (Friday) Lintao (Gansu) 81KM
Posted: Thu, 5 Aug 2004 00:16:00
July 30th (Friday) Lintao (Gansu) 81KM
Mom, this ones just for you. I came across the most amazing countryside in China to date. After leaving Weiyuan you climb up into to the countryside past a dam and into terraced mountains covered in mostly greens, yellows and reds. Past that the mountains are untamed and covered in green bushes and trees. Winding up the highway I came across two tiny villages, both about 500 - 1000 meters from the highway which had clear mountain streams running through them. Almost every other town or small village has housing within 2 feet of the highway and this is no exaggeration. There was no garbage to be seen and only a faint amount smoke coming from a couple of the small houses. I tried to video this but only managed a few pictures as I ran out of space on the camera and then the battery died. Beautiful day!!!!
G
July 29th (Thursday) Weiyuan (Gansu) 49 KM
Posted: Thu, 5 Aug 2004 00:05:35
July 29th (Thursday) Weiyuan (Gansu) 49 KM
Early in the day yesterday I was in search of the infamous 16" rim for my trailer as I have know lost 4 spokes. I had three of those repaired in Xi-an but cutting longer spokes to fit but I want a spare just in case the tire goes kaput. Anyway I was in the bike shop earlier trying to find a rim or spare spokes but couldn't, this was harder than explaining anything I have encountered so far. Anyway I went back to the computer place- this all happened yesterday as mentioned- and sent some pictures via e-mail (Matt has gone awol however - I figure he is out of town as it is now August 5th that I am writing and I am in Lanzhou). When I finished the guy from the bike store was outside looking for me as I guess I wasn't hard to track down. All he had to ask is where did the guilou go?
He said he had a rim for me which I should have know better but I was jumping for joy! When we got back to the shop he must have been confused as it was an 18" rim - doh! We walked outside as he was determined to help and there happened to be a little kids bike with a 16" rim. He wouldn't sell the rim but he gave me 5 spokes off of it and guess what? he refused any money! I shouldn't be surprised but I am.... anyway he wanted to get a picture with me at the city gate so I obliged and offered to pay for that, but no way!!! Anyway it was a real genuine gesture and I was totally beside myself after.
Okay on with today (July 29th). It was starting to rain as I left and had to assure the lady at the hotel that Canada was a land of hearty individuals and a little rain was nothing. A block away from the hotel the rain picked up a bit and I got my first flat!!!!! I must thank Gary at Overtime sports for assembling me such an awesome durable and cheap bike. I have traveled 2500KM through all kinds of roads and only have had a flat and broken peddle (the trailer was bought at MEC). Anyway I broke down the bike which is like second nature and had the tire replaced in no time. I started to pump it up and before I could stop and let the air out the seem burst on the actual tire. Okay I got a little concerned as I only brought two tires and I have already sent one back home -dumbass!!! After replaced the tire and got going. Lintao is another 74KM so it should be a good test for the knee.
Subsequently I have found a web site of another Canadian who biked China in 1998. His back tire went out around the same mileage but he said the front was still good after 4000KM which is nice to hear. I will pick up a spare just in case though.
G
July 28th (Wednesday) Longxi (Gansu) - Rest Day!
Posted: Wed, 4 Aug 2004 23:47:06
July 28th (Wednesday) Longxi (Gansu) - Rest Day!
After arriving in Longxi yesterday I went to the hospital. Going to the hospital in China was quite the interesting experience. Like everything I encountered so far is a whole new type of language barrier. I knew all I really needed was an ice pack (the one that came with my first aid kit sucked) and some anti-inflammatory medicine (Ibuprofen -spelling). However the doctor who checked me out got me some tape and two bottles of what I think is painkiller but they look like rabbit pellets (yes rabbit shit). Well it really wasn't that painful but unfortunately the swelling has not really gone down. I was able to find a street vendor with a frozen bottle of water (that took about half an hour) which I think did more good than the trip to the hospital! Anyway while I was in the hospital (yes I need sympathy) it started a bit of a commotion as it seemed all of the interns gathered around to watch. There was honestly 20 people standing around while people sat in other rooms dying for medical attention. I have to admit though this was pretty prompt service compared to Canada where you need to have a serious life threatening injury before a doctor will see you. After the hospital and getting the frozen water bottle I retired to the hotel and read a book as I needed to rest. That night I went out as my knee felt a little better and I always have to check out the town no matter how tired I am etc. Well I grabbed a bag of the local popcorn which had a sweet taste to it but sucked because I like lots of butter on mine and then sat down near the city gate. Within seconds of trying to take to a Chinese couple I was seriously mobbed. It was actually kind of intimidating as no one said anything and yet they were within a few feet of me staring at me. I tried to continue a sort of broken conversation with the couple but after about ten minutes I decided to go as I really felt uncomfortable. I went back to the hotel and watched some soccer!
Today I walked around picking up some necessity items (TP) from the local market. It is very hard to describe the local markets here but I'm sure y'all seen them on TV shows where they hawk everything from witches broomsticks to lucky lizards (actually I haven't seen any lizards in China yet). Basically they sell everything and then you walk a few stores down and they're hawking the same items. Most of it is just junk and if you stop to look the merchants are all over you. Anyway this town is pretty small and not really worth a visit for the most part.
G
July 27th (Wednesday) Longxi (Gansu) 53KM
Posted: Tue, 27 Jul 2004 21:20:47
July 27th (Wednesday) Longxi (Gansu) 53KM
Well I didn't get feathered but today did start off with a bang, literally! The first section of road a minute out of town was gravel and the bike slide out to the right on me. It was probably just early in the morning being half asleep but I rammed my left knee (problem knee) into the handle bars or possibly the lock on the handle bars. It hurt obviously and was right on the tendon above the knee cap. I was more mad that I had done it at first but throughout the rest of the day it swelled up and then finally began to stiffen. I arrived in Longxi and even though Weiyaun was less than 50km away I knew there was no point in continuing. I am writing this July 28th so it turns out I stayed an extra day as the swelling hasn't gone down enough and I am still a little stiff. I should leave by tomorrow. Finally the internet place I am at allowed me to send some more pictures - you lucky bastards!
G
July 26th (Monday) Wushan (Gansu) 50KM
Posted: Tue, 27 Jul 2004 21:14:36
July 26th (Monday) Wushan (Gansu) 50KM
The Daxiangshan Grottoes were cool and for 10 Yuan it easily beat out the Maijishan. Obviously these grottoes weren't as hard to create and there are not that many but it was easy to get around and see everything. The large Buddha which is about 30 meters high is actually viewable from the town of Wushan. There was also a completely brand new section on the back side which had tremendous artwork on everything from the door handles to the stairway railings. I really enjoy seeing the artwork being recreated as it is so timeless. Another bonus was there was almost no one there except some monks and workers.
The first part of the ride was excellent for riding and scenery with only a few sketchy sections. It was pretty flat as well so I was wondering how lucky was I?
Well I didn't get feathered today in reference to July 25th but I was mudded? It had poured rain the last night and I hit this small town were the main drag, well only road through, was completely flooded in the middle. There was a line of trucks trying to get through and I thought it amusing enough to take a few pictures. Well I quickly realized there were no side streets and I would have to battle through the same mud in some sections. I took the foot paths as much as possible but inevitably I had to go through one of the bad sections. Well the trailer tire was dragging and would spin and it was slippery and balancing that pig can be a challenge on paved road. I got more or less stuck and had to get off and pull the bike up the embankment. I started unclogging the mud be hand and within 30 seconds an older gentlemen had showed up with a stick and began helping - didn't say a word, he just smiled and helped. Pretty soon a crowd had gathered and some sweet angel had brought a bucket of water. I have so many mixed feelings about China in general but they never cease to amaze me at their generosity and there ability to drop what their doing and help a stranger. It's very heartwarming. Anyway I slugged up the hill which was a little drier and then onto pavement again.
Drive train was clogged again!!!!! ugh!!!!
I cleaned it best I could and then started looking for a water source of any kind - puddles - river etc. I noticed a spanking clean truck on the side of the road and pulled in to meet the entrepreneur of the township. She had a generator and compressor and for 5 Yuan I could clean my bike. Sweet! I cleaned it all up and then re-oiled the drive train. Okay so things weren't so bad!
I kept moving and eventually pulled into a town which I thought was Wushan (it wasn't). I ate lunch and then moved on thinking I would reach Longxi next. Well I pulled into Wushan - doh! - and decided to stop instead of riding another 50km. The first hotel wouldn't take me once they saw my bike but I met another Chinese friend Kang Hong Wei who brought me to a different hotel were I cleaned up. We went to use the internet and while there I asked if he knew where I could use the internet on a computer with a cd player. He said no problem, so I grabbed my picture cd and we headed over there were I sent some pictures!!!! No Shit really! After that we went for some dinner which he wouldn't let me pay for and I called it a night. Maybe tomorrow is the day I get feathered. On a side note Lance won and ironically Team Mobile won - I'm stupid....
G
July 25th (Sunday) Gangu (Gansu) 87KM
Posted: Tue, 27 Jul 2004 20:53:11
July 25th (Sunday) Gangu (Gansu) 87KM
Well I officially got tarred today! I was having such a great ride too. It really didn't feel like 90km at all which may have been due to the rest day. Around 60km into it I did a 4km climb which was a nice paved road with a reasonable incline. On the descent I encountered what looked like a gravel section with oil of top to keep the dust down - HA! It was freshly laid tar, the tar truck was maybe 500 meters up the road! Before I realized it tar and chunks of gravel were flying everywhere (I got covered) and clogging up the drive train. There was no way around it as we were way up in the hills with no side roads. Apparently two guys on the side of the road thought this was quite humorous - I started thinking REDRUM!!! REDRUM!!!!!!!!!!!
Truly though I was seriously mad and was inches away from getting off the bikes and pounding the shit out of the little bastards. It really takes a lot to get me mad but seeing my bike getting potentially fucked really lit the fuse!
Anyway I stopped and sacrificed my toothbrush and towel to clean the drive train as best as I could (no brainer). The rest of the way was all downhill so when I got to town I picked up some scrub brushes, detergent and small towels for cleaning. I booked a hotel and then brought my bike into to the alley where I spent a good 1 to 2 hours cleaning the bike. I took off the chain and big ring sort off and cleaned every tooth etc. so maybe this was another look on the brightside thing. The gear looked very good and the chain didn't have too much wear considering the km. After that I cleaned up - ouch - and almost no need to mention, bike first, me second. Cleaning up reminded me of getting really dirty when I was a kid. My mom wouldn't let me into the house unless I scrubbed and hosed off in freezing cold water - see mom you really prepared me for my adult life (just kidding). That night I tried to stay awake to watch the time trials but couldn't manage. It turns out Lance kicked major ass as did Ulrich. Is there anyone close to these guys?
Point of interest to cyclists or people who watch cycling:
There is a famous lake in China - Qunghai. The Tibetans race around the lake with horses around this time of year to encourage good agriculture I think. It is approximately 500km in circumference so a pretty long ride on horseback which they still do to this day. Watching the good old CCTV5 I have been following a bike race around the same lake with competitors from all over. These guys are probably one level below the tour de France riders but it would be interesting to watch or possibly compete in. There was a Canadian team but they pulled out because one guy got injured or something. Anyway tomorrow I will go see the third of the fourth famous grottoes in China.
G
July 24th (Saturday) Maijishan (Gansu) Tourist Day
Posted: Tue, 27 Jul 2004 20:31:56
July 24th (Saturday) Maijishan (Gansu) Tourist Day
I have mixed feelings about the Maijishan Grottoes. I took the bus instead of taxi or biking which would have been hell. It cost 20 Yuan which was reasonable as the ride was about 1 and half hours. The drive was very scenic and it turns out Maijishan is a Mecca for tourist attractions. Most are related to nature and they have protected the are sort t of like Hua Shan in Shaanxi province, so it's good to know China is looking toward the future as far as preservation, even if it is only for tourist money (ah too cynical I am). Honestly though China has an extensive amount of natural beauty similar to the west coast of North America, they just need to keep it clean and people will come here in droves.
There are two entrance fees to Maijishan, 25 Yuan to enter the park area which is very large and 32 Yuan to climb up to the grottoes. On the walk way up to the grottoes you see this peak shaped like the wide half of an egg with a giant carving of Buddha on a shear cliff. You also see the stairways attached to the cliff which people are trudging up and down. So at first glance this looks out of this world. Unfortunately when you get up there 90% of the caves ranging from a half cubic meter to 3 cubic meters are all covered by doors with screen windows. So the place is not camera friendly and some the smaller grottoes are impossible to see in even with a flashlight. The stairs were pretty new and I was kind of hoping they were still wooden and precarious, but there nice and solid - damn! Don't get me wrong though I would recommend seeing it as the mere construction of it is quit amazing. The brought all of the supplies to the top of the mountain and worked their way down. They built scaffolding which they dismantled after completing each section, so the only previous access was by stacking ladders as the caves are 100 to 200 feet above the ground. They also built them during the succession of 3 dynasties (Wei, Tang and ummm... forgot).
I had chatted with some people on the bus ride here and on the way back all of the children wanted to sit beside me (cuz I'm cool like Potter!). The kids really get excited when they see a freak of nature but are always timid at first, it's very cute. Anyway I got to sit next to the kid with the bug collection (no bandages on his chin - that kid was hilarious!). They were actually skins from bugs that he had collected. They had pretty menacing looking claws. Anyway it was a good rest day and there is a tonne more to see here next time I come back.
G
July 23rd (Friday) Bei Dao - Tian Shui (Gansu) 116KM
Posted: Tue, 27 Jul 2004 20:14:00
July 23rd (Friday) Bei Dao - Tian Shui (Gansu) 116KM
Long ride with an enormous climb (very steep) around 98KM but a great ride none the less. I was totally expecting a tunnel but I guess this mountain was a little to thick to build a tunnel, or maybe too expensive? Overall I made decent time and the landscape was incredible. I basically followed the Yellow River the whole way and at one point the markers were labeled 310 once again which is always pleasing to the soul when you know your on the right path. I am not sure of the elevation gain but it had to be in the 1000 to 2000 meter range. The surrounding mountains were between 500 - 1000 meters above the road so I am really starting to get some altitude compared to home. It was a really beautiful ride and since the train followed the same route I would definitely recommend taking the train to Lanzhou through this route.
I booked two nights as I am going to bus over to Maijishan tomorrow which is about 30KM south of TaiShui. There is also a local site near the hotel which I may check out after but I am not sure what it is. The saddle sores have returned but thanks to Bret's advice I am off to pick up some rubbing alcohol and since I am updating this a week later, I can say it works! I was also going to attempt to burn a CD which I managed to do and a few days after was able to e-mail some pictures so ya'll should have something to look at.
On a side note - remember I wrote this on the 23rd:
Lance is running away with it again. He really has a strong team unlike Mr. Ulrich (I'll eat those words). The other day I think it was stage 12 and he pulled away from Armstrong and was catching all of the pursuant cyclists easily. Each group however tried to draft him and sapped his strength. If he had a fellow teammate up there he would have one the stage although he did break a little early as there 50KM to go. The final group he caught were a bunch of poofters, he deliberately let them ahead to lead and it slowed down the pace. So he had to do most of the leading and by that time Armstrong was gaining. He placed third that day but I really wanted him to win a stage. Anyway I don't want to take away too much from Lance as great riders want to ride on his team and he is probably one of the best riders ever. I was definitely glad to see him take the yellow Jersey from the French drama queen. Funny enough near the end of the stage Voeckler got sprayed in the face with a water bottle from some fan. I don't think it was intentional but his reaction was hilarious, it was like I had a fucking bad day, lost the Jersey, now you spray water in my eye and blind me 'what the fuck!'.
G
July 22nd (Tuesday) Dong Cha (Gansu) 66KM
Posted: Tue, 27 Jul 2004 19:55:37
July 22nd (Tuesday) Dong Cha (Gansu) 66KM
Caught up on some notes and visited the Tan Mausoleum. It was nothing spectacular but it was still worth a visit. In 1992 they basically reconstructed the whole thing so it gave me a better sense of how things might of looked. That being said they did mix some of the different building styles from different dynasties as they weren't 100% on how it was built. Within the main temple there was some pictorials on the wall describing how Tan was born and things he did when he was alive. Apparently his mother mated with the gods and Tan was born with ox horns - ouch! (Yes women can endure more pain). Of course he probably just had lots of hair as a baby and his mother was probably a concubine of some rich lord or something. During his life he did bring about positive changes to agriculture, so he is kind of always associated with farming and such. You can catch a cab ride right up to the top or walk it as it is not that high and I think it was only 10 Yuan to enter. From the top you also get a great view of Baoji.
After heading back down I went looking for dental floss (practically unknown in China) in the grandiose supermarket and manage to find the one use kind on a pick. Well it was better than nothing so I went back to the hotel and packed to leave.
It was 1PM by the time I got going which I have to say again and again, the hottest freaking part of the day, but I wanted to see the mausoleum so tough shit I guess. The road immediately went into the hills and became a dirt road. I keep telling myself "this is training for Tibet don't fret about it" but once and a while I just scream an explanative. The downhill oddly enough came to the expressway and the intended route (310 highway) just faded into thin air. I stopped there for some ice cream and to take a little break as it was quite hot. The locals wanted to know where I was from and where I was going and through some fluke of miscommunication one guy thought it was okay to try riding my bike. I noticed this when he was kind of skidding out of control as you can't turn sharply with all the weight as the front tire just won't stick. I kind of ran over and yelled at him and told him to get off which he did but I figure he probably did ask but I just didn't understand.
So up the Expressway I went and like any expressway in the mountainous regions, they go through the mountains, not over. I encountered five tunnels along the way which were all kind of disturbing to my mental state, but one in particular scared the shit out of me. Inside this particular tunnel there were motion sensitive lights for the vehicles, but of course a bike wouldn't set it off as who in their right mind would ride through a KM long tunnel in pitch black. This tunnel followed the bend of the mountain somewhat so I couldn't see the exit and this is one of the few times I prayed for trucks to pass me. Shortly after entering there were no vehicles so I had to stop as I couldn't see anything and the bike light was useless. After a truck came the lights flickered on and I started pedaling hard just to get the hell out of there.
Today was slow going to say the least but I wonder what it would have been like without the tunnels? Anyway I found a cheap/clean hotel for 30 Yuan ( $5CDN) around 6PM and will ride the rest of the way into TianShui tomorrow (about 100KM). I am writing this done by the river beside a van. There is some guy down here who owns the van who has been THRICE divorced and who is aware he has a 'Bit of a weight problem'. Fortunately for me he is a motivational speaker and has helped the like of George Foreman regain his "Dexterity'.
G
July 21st (Wednesday) Baoji (Shaanxi) 79KM
Posted: Fri, 23 Jul 2004 07:50:12
As most places in China Baoji was a bit of a surprise. I had intended to avoid it as it looked like a bigger city and I couldn't identify the local tourist attractions on the Chinese map. It turns out Baoji is the second largest city in the Shaanxi province and two of the major attractions are in the direct vicinity. It is also quite modern or lets developed as far as the buildings are fairly new looking. However they are not on the scale of Xian.
I found the first site just outside the city (Tiantai Shan). I noticed it because there was green sign and a road leading up into the mountain side. The entrance was full of Chinese tourists so I figured I should inquire it out at the very least. I spoke with a guy who was offering rides up for 10 Yuan as it was 8 KM. Him and another guy who was standing around convinced me to go so we all hoped into his motorcycle which was a three wheeler consisting of the front of a motorcycle with a 4' by 6' box on the back on a leaf suspension. We took the bikes as well and the driver precede up the narrow road full of vim and psychosis (spelling?). He passed just about everything and I leaned in the corners as I thought for some reason this may help - I also kept my Helmut on. There were several small villages on the way up and actually a few shrines which we didn't stop at.
I was trying to figure out what I could see up the mountain side and stumbled into a kind of tourist office where they were creating tickets or something. It was 5 Yuan to enter and they gave me a complete English book describing everything that was up there. It was a 10KM route all the way around and I had been riding all day so I hummed and hawed about it for a good 10 minutes. I finally decided to do it and they stored my bike for me while I put on the old flip flips which have now been everywhere. When I got to the gate they refused to take money and sent me up with two young students. They must have figured I wouldn't get far or something. The two students were nice guys but I don't think they appreciated the pace I was going at, ph well they were young and would recover the next day.
We opted for the dirt path along the river which went by a waterfall and ended at a lake. People as usual were amused by the flip flops but hey their comfortable and I didn't feel like digging out the runners. There was much flow to the river and the lake was pretty stagnant due to the summer month's, but there was a really nice strong wind up there which felt great. We went down after that and I rode the bike out to the highway which was a total downhill - nice!
After that I ventured into the city, grabbed a hotel and wandered around looking for a place to eat. O walked around the marketplace a few times before settling down for a place to eat some dumplings and kabobs. I happened to sit right next to a lady who was making noodles from scratch which was cool to watch. She worked her ass off and never seemed to take a break. For those who like dumplings, I believe Shaanxi is the home for them and they taste pretty damn good! That being said the Chinese have a knack for making most things taste good.
As with different parts of Canada or even countries in general for argument sake, Shaanxi people are quite different from their brethren in the Beijing or Shanxi provinces. They are a little laid back and seem a little cleaner despite the poorness of the province. I found the people of Beijing and Shanxi to be quite careless and very hasty. The people of Shaanxi also seem to be a little happier or maybe a little more content with things as they are but that is only having seen 6 cities all on the southern region.
Something I saw on the road today which was pretty funny was this little town that had two stone pagoda's. It looked like a tourist town so I had to check it out. It turns out both pagoda's were very new and one even had a clock in it. It was 1PM so I got to hear the communist propaganda spew out of it - just guessing hahaha. Anyway it had a surreal feel to it and it was one of the very few places with a Mao statue in the centre of town.
Werd!
G
July 20th (Tuesday) Meiyuan? (Shaanxi) 50KM
Posted: Fri, 23 Jul 2004 07:20:5
This was kind of a rest day as my left knee has a little tweak in it and right now there is no need to rush the journey as I am ahead of schedule by more than a week. This also allowed me to do some laundry and plan out my trip to Lanzhou which is goal number 2. Lanzhou has many sites to see but they are unfortunately spread out all over the place, so I want to do as little back tracking as possible.
With the poorer provinces comes a lower cost of living, 7 Yuan for dinner, 40 Yuan for the hotel and 6 Yuan for breakfast which is basically less then $10 CAN if you add it all up. The hotel I stayed in was being rebuilt and for some reason the hot water worked but not the cold - well at least for the shower. I ended up using the sink and this big water basin to rinse off etc. What was also evident with this province is the road conditions of highway 310 which was mediocre at best. I will be entering Gansu in the next couple of days which is even poorer, so I guess the roads should be pretty interesting the rest of the way. Something I did see yesterday that I forgot to mention was the garlic town I passed through - well not really but....for a 2km stretch there were tonnes of shops that were weighing and bagging garlic. The smell was totally intoxicating if you like garlic but it was just trippy to see all of the mounds of garlic so far off the beaten path. I guess you really are never to far off the beaten path in China anyway. I stopped at 1999KM on my little odometer, so we are racking up the K's pretty good so far.
G
July 19th (Monday) Zhouzhi (Shaanxi) 105KM
Posted: Fri, 23 Jul 2004 07:08:41
Finally on the road again! Xian was too much of a party place staying at the youth hostel. Don't get me wrong, it was fun and I met some really great people who I have exchanged e-mail addresses with. As for Xian, it rivals any modern city and I liked it much better than Beijing as I can't compare with smaller cities. There is definitely a little more character to this city and I guess it is quite the shinning star for the province of Shaanxi which is among the poorest. There are signs everywhere promoting a strong future economy but the funniest signs I saw so far were to promote safe driving. Word for word I can't remember any but they went a little like this:
'No need to speed travel with haste instead' (someone better explain what haste means to them)
'Even a man who is good to his family is still not responsible if he doesn't drive with care'
At least I know I can know get a job writing English signs in China.
G
July 13th (Tuesday) Xian (Shaanxi) 43 KM
Posted: Thu, 15 Jul 2004 00:42:01 XIAN!!!!!!!!! 1818 KM!!!!!!!!!!

Okay I made it to my first goal. I have been in Xian two days at this point and finally got a chance to update the e-mail.

I am checking into Tibet stuff and it may be difficult to ride across but it can be done and people have done it. I will try and respond to people messages soon as everyone has been so supportive. I really motivates me when I read those messages posted on the site, so a big thanks to all that have written me.

Cheers!
G
July 12th (Monday) Lintong (Shaanxi) 97 KM
Posted: Thu, 15 Jul 2004 00:33:39

The ride was more or less very smooth and I covered a lot of ground quickly. I was also to leave early in the morning which was a little cooler - of course cooler here is like the hottest day in Vancouver!

My English map had marked the Terra Cotta Warriors next to the wrong city and I am such a bad drawer no one could figure out what I was looking for. I also didn't have the Chinese characters for it so my Chinese map which is very detailed was useless at the time. After stopping at a gas station and going through the same misunderstandings one of the guys phoned his daughter who spoke English. Within a minute I was on my way and knew exactly were to go - I promise I will try hard to learn Chinese!!!!!

I rode to Lintong and found out the site was only 6 KM from town. I was going to bike it as I wasn't tired but I decided to get a hotel.

For whatever reason I chose the first hotel which was 100 Yuan a night (under $20 CAN) and right away I thought something was weird about the place. I will explain in a bit but first I will mention the Terra Cotta....

The Terra Cotta site was cool but not overly impressive. However I was tired from biking all day and I had built this one up in mind. Other people I have talked to really enjoyed it so again, see it for yourself if you can. Because it was a little later in the day two of the buildings were closed, one that shows a film and the other with recreated artifacts. I did see all three pits, pit one being the largest and most interesting. You can't get closer that 20 meters but there was an ad for a tour that cost a little more that would allow this. The pictures didn't really turn out well either as I was a little shaky but you can get a jest of what I saw.

In pit 2 there are 3 warriors that were extracted and put in a Plexiglas display which was good for seeing the detail. The actual Cottas are very detailed and amazing to look at. As for the museum itself, it is a world class layout and the surrounding lawns (yes grass!!!) and trees are beautifully laid out. It is sight itself in China - kidding!

The biggest misconception I had about this place was that the warriors were in caves in the side of a mountain. They were actually pits that were dug in the flat ground and were carefully concealed by stone pillars, wooden roofs, brick, straw mats, and then finally earth. They are all in sections that have 2 meter dirt walls between them so I don't think it would ever collapse.

Leaving the museum was a bit of a pain as an onslaught of peddlers approached me. These ones were really aggressive and were physically forcing their items on me. I quickly grabbed a taxi and got the hell out of there as I hate that shit.

When I got back to the hotel I went back to my room to lay down but let me back up a bit. When I first booked the room they didn't want me to sign in or anything, they just wanted me to sit on the couch in the lounge and put some slippers on. They then wanted to store my shoes but I said no. There was no mention of money etc. Next they wanted me to got to the shower room before I got to my room but again I was like no let me put my stuff away first. I came back for a shower in the YMCA style bathroom and ten attendants stood around and watched me take off my cloths (I wonder what they thought of the saddle sores - yuck!). They would take them and place them in a locker as soon as I took off each item. Then I walked over to the shower which one attendant turned on and made sure the water was the right temperature - you get the idea. After the shower there was a guy who was supposed to towel me off but I told him to fuck off. I'm not homophobic but only two people are allowed to towel me off, me and my girlfriend.

hmmmm.... this must be a men's club of some sort....

I went back to my room and another attendant came in to see what I wanted next. There was no English menu but he got the drift that I wanted to eat. He left and a little later a young women came in. That's when I really started to realize what kind of place this was - disgusting....

Anyway I mimicked eating food and opened the door where the other attendants were waiting (get me out of here!). I waved them away and went for some found in a local restaurant. The meal was excellent and had beef w/oyster sauce on top of buck choy.

I went back to me room and locked the door and actually had a good sleep. Normally I shower in the mornings but I just wanted to get away from this place. I don't have a problem with the place in the sense that some people like this sort of thing and will pay for it. If the girls were paid well for their services as well, I wouldn't have a problem with that either. However you know they probably make no money and are totally exploited. I personally prostitution should be legalized so it can be monitored by government for human rights issues. Anyway I know in countries like Thailand it is a million times worse. On a positive note I have a short ride into Xian today which is my first major goal in the route.

G
July 11th (Sunday) Hua Shan (Shaanxi) 26KM
Posted: Wed, 14 Jul 2004 23:52:58

Well just as I thought they charged me for the deluxe room which was an extra 100 Yuan. Unfortunately the hotel staff really don't get it. We are not all loaded with cash and want to spend extra money for the deluxe accommodations which one star quality in the west. Anyway....

Biking to Hua Shan (Shan = Mountain) was okay as I am still recovering but I was in a bit of a bad mood from the hotel issues. The travel book I am using right now really needs some updates as ticket prices have always been substantially higher than listed in the book. Hua Shan is 70 Yuan to enter and if you decide to take the gondola on the east side, you can add 110 Yuan for a round trip. I was walking up, so I entered from the west side of the mountain.

I started up the trail around 12:30 and quickly got to the main gate where you pay your fee. Generally speaking if you are a rock climber or experienced hiker you may be disappointed as it is stairs the whole way up. The granite cliffs are impressive and the stairs are a little precarious in a lot of places. Personally I wasn't disappointed with this as I figured it's a sacred mountain and regular people want to visit it. The first section is stone path for about 2 -3 KM. In the steeper sections there are stairs on the side of the path. After that the next 5 KM is a stair master special. I got near the top (the top is 2168M) and went to check out the 'Feet Cliff' but that took my roughly 3 and half hours to walk up (It says 7 - 9 in my guide book which is totally ridiculous). the 'Feet Cliff' was a man made (wooden planks) traverse about 20M long with a chain above it to hold on to. This was on a sheer cliff that dropped a good 500 meters, so rock climbers would love to get their hands on the granite here. To get to the traverse you first climb down about 5 meters on these kind of dual bars cemented into the cliff that act as steps. There is a dude at the bottom who takes your picture if so desired. On the other side of the traverse is a patch of land about 5 meters square with a little shrine cut into the mountain. There are some Chinese characters engraved 50 meters above it and there is also a large pine tree that people tie red ribbons on. It hangs out over the cliff, so I guess the farther out you tie one on the luckier you are or maybe very unlucky you might be. There is no restriction on the amount people going across and back so it is very chaotic. most people are scared shitless and kind of slither along in their high heels. The only thing that bothered me was the man made stuff as who knows how secure it is. I shot a little video which turned out pretty good and left for the top. Altogether that may have been four hours to the very top but I was hustling.

The views from the top were stunning as the granite rock juts out of the earth at such an abrupt angle. The next range of mountain is all covered in forest and was really a beautiful sight to see.

Something I forgot to mention about the way up, there are probably at least 10 shops/restaurants and almost as many washrooms. So if you wanted to take your time it would be no problem and you wouldn't slow other people down.

Back to the story....

After the summit I climbed down to the west tower for a different view. The view was great so I sat there for a while and then walked down to one of the three hotels (no typo there!). There was a foreign couple having a beer so I asked if I could join them. They were from Norway and we actually talked for quite a while. They were staying the night as this allows you to see the sunset and apparently a very stunning sunrise (I will do this some day).

All the way down even as far as the entrance, people were coming up (not a lot) and I was thinking how dangerous it was during the day (very few had flash lights). There is some lighting along the walk way in key areas but I think they would be screwed if they fell and got hurt. Anyway this one rated really high in my books and I would come back as I mentioned.

A tidbit on Tibet... I met a Belgium couple on the way up who were also going to Lhasa. They confirmed that all foreigners had to enter from Golmud (actually today I found out Chengdu as well) and were to pay 2000 Yuan. This would only get you to Lhasa but you were supposed to book a tour that would bring you back. I have also heard that you must enter with at least a group of 5 people.

Interesting.....
G
July 10th (Saturday) Tungguan (Shaanxi) 1 Floor
Posted: Wed, 14 Jul 2004 03:08:50

Ummm... still have the shits......

At this point I decided to reach into the old medicine kit. I am spending the entire day in bed and reading about Tibet and checking my route a little more thoroughly. I also had to change rooms as for whatever reason they put me in a deluxe room last night which I didn't want. Booking a room in China at best can be trying as they fill out a lot of useless paper work and always think the foreigners have loads of money. Anyway I have a feeling they will overcharge me, but I don't think they are being dishonest, they just don't understand as I cannot communicate in Chinese (my bad - should have studied harder!).
G
July 9th (Friday) Tungguan (Shaanxi) 82KM
Posted: Wed, 14 Jul 2004 03:03:02

Yes Shaanxi province, not Shanxi.....

Well that was probably the crappiest day of riding so far. The meal was great last night as mentioned, but it decided to vacate my body from the rear hatch around midnight. This sucked as I had finally gotten a soft comfortable bed as most are as hard as a rock. I figured I could ride regardless so I left for Tungguan around 11:30. I had zero energy and would often get cramps but they weren't too bad. The ride was also a constant climb and even though a long section of it was only a slight grade it was still demoralizing. I really struggled today and still feel like crap. This also meant my tolerance levels were pretty low and I unfortunately was rude to couple of the drivers. I hate feeling like this and it is wrong to be rude. Hopefully tomorrow will be better.

G
July 8th (Thursday) LingBao (Henan) 101KM
Posted: Wed, 14 Jul 2004 02:55:52
The first 10km started off nice and flat, the next 10km was granny gear the whole way. I thought someone was playing a cruel joke on me as I just kept climbing and climbing.....as usual though, there were some incredible view points and this particular highway rode over the top of a ridge. You should see some pictures by Christmas time (they're coming I promise!).
The 108 actually veered west as soon as I left Xi Xian so I actually rode on the 209 to Sanmenxia and then continued on the 310 highway. Sanmenxia was an intended stop but after the big hill it flattened out quite a bit. I arrived there around 2PM so I decided to head to Linbgbao which was only another 50 KM. Just before Sanmenxia you cross the Huang He (He = river) which is basically a big muddy river. The banks extended almost the length of the bridge (maybe 1 KM) but it was low when I crossed and the river was maybe 200 meters below the bridge. The highlight was the naked guy walking around these pools that formed in these kind of steel footings below the bridge. I figure they must stabilize the ground near the actual footing or something. The naked guy, well I will send a pic....
When I arrived in Lingbao the first hotel was a little pricey, so I went up the road (I never take the first hotel unless it's the only one) to find another one. When I got to the next hotel they receptionists were having problems understanding me or vice versa, so they called someone down.
His name was Chen and ironically he had studied English at Vancouver Community College. He spoke English very well and offered to help me find a restaurant after I cleaned up - I was playing in the mud all day with the dude at the Huang He - kidding.
We drove over too a restaurant and had some pork ribs, a vegetables in garlic sauce and a spicy tofu dish which was excellent! He bought dinner of course and then he gave me a tour of the town via car as he was from Lingbao. It was a small city of 1 million (I guess it is clean and has some money being invested in it, so it's an official city) and there was a lot of construction going on fixing up the city. It was actually pretty clean by Chinese standards and there wasn't a coal truck in sight. Actually the frequency of coal trucks really diminished after PingYao.
Chen owned his own business which he had taken over from his dad. Normally it is very hard to get private business licenses but I think they are changing this. From what I understand, they built the gold and silver trim you see on some of the buildings such as banks and fancy hotels. He split his work between Xian and Lingbao and I think he does pretty good for himself. Anyway he was a really nice guy and was very helpful in discussing my route to Xian and general questions about Chinese culture in Vancouver. He was there during the bus strike, and had to walk to school from the Nanaimo station (werd!). He wants to go back someday, but it is very expensive which totally sucks.
G
July 7th (Wednesday) Xi Xian (Shanxi) 38KM
Posted: Wed, 14 Jul 2004 02:29:05

Today was an intended rest day so the ride was once again uneventful and very short. Xi Xian is sort of near where my friend Rita grew up, so she was able to meet me with one of her friends today. We met up on the main drag and she found me a hotel that as cheap but also nice and clean. She arranged to get the laundry done as well - I really wish I could speak Chinese!!!

Anyway there were two sites within a taxi ride form the city so we decided to do both. First we went to were there was supposed to be a natural hot spring. Well.... there was a very small man made lake full of puke green water. There was a pagoda in the middle where some fishermen were eating at sort of a make shift restaurant. In some tanks they had the catch of the day, 'Fungi a la Catfish'. They looked in pretty sad shape. There was apparently a swimming pool near by but we didn't check it out. Rita asked if I was disappointed with this site and I responded with I never get disappointed with these kind of places because if I didn't go I would never know what to expect. Umm.... if traveling in China, you can miss this one, just a suggestion.....

At this point we decided to go to the other site which was a river area in the mountains. I was supposed to be very cool as in temperate and very clean. The road there was very mountainous, narrow, and had constant switch backs. This didn't seem to bother the taxi driver much but Rita's friend got motion sickness as the driver was on a mission. The views to this site (I don't know the name) were spectacular and there is actually forest on the sides of the road (a first!).

When we got there the air was definitely cooler and unpolluted but the water was almost non-existent. It was also a puke green colour and had no movement to it. I think this place has no historical significance and is a man made tourist trap. Apparently foreigners no longer come here though. Anyway there was a stone pagoda on one hillside and a wooden one on the other. We opted to go to the stone one which was actually built recently. We climbed to the top and there was a decent view but I think this place is probably much nicer in the winter. The pagoda itself didn't leave any impression with me either as it was just a piece of concrete. The trip itself was a good side trip and it was nice to see forest. It was also nice to speak English all day. I will head for Sanmenxia tomorrow in the Henan province.

G
July 6th (Tuesday) Unknown 110KM
Posted: Wed, 14 Jul 2004 02:09:39

The ride was a lot of up and down but no major hills. I met another English student but can't remember his name. He found me a cheap hotel without a shower, so he paid for a cab over to a place where I could have a quick one. After that we went back to the hotel as I needed to get some money and then we went for dinner in the restaurant next door to his place. He refused any money of course and said that his dad would pay. The town of 1 million people was not considered a city due to the fact that there was still too much garbage in the streets and not a significant amount of capitol around. They actually have a nice man made lake in the middle of town with a wooden pagoda in the middle. There is a nice stone bridge on either side of that. Other than that this is a dead end town.

G

July 5th (Monday) Li Fen (Shanxi) 79KM
Posted: Wed, 14 Jul 2004 02:03:42

I am a bit behind on the e-mails as I hit some really small towns and got sick again. Therefore there will be a lot of reading for those interested.

Pretty non-eventful ride. It was a little up and down but nothing significant. My route to Xian is quickly getting solidified. I will stay on the 108 highway all of the way to Sanmenxia (Henan) and then take the 310 all the way into Xian. On the ride into town today I saw a German restaurant/microbrew so I had to check it out....

1 hour later.......Okay, well I'm in the German microbrew. No German's here but pretty good beer. It is an unfiltered beer (hefavison - you know what I mean, I just know phonetics!) and they pour it out of a mini wooden keg (cool!). The name of the place is 'German Cottage Brewery Good Beer' which is the only funny thing about this stupid story. Anyway I taught some of waitresses German and showed them my travels to date using my superb artistry. Nothing worth mentioning about the town itself, on to Xian we go.

G




July 4th (Sunday) Huazhong? (Shanxi) 115KM
Posted: Mon, 5 Jul 2004 06:18:43
Happy independence day my American friends, promise me you will not keep the war pigs in office, vote for an intelligent president.
Mao Tai (Brewed in Guizhou) is the best beer I have had so far.
Again the ride was mostly uneventful as there were almost no hills and the climbs never lasted more than 200 meters. I am not 100% sure of were I am (at least on the English map) but I just had the best beef with oyster sauce meal ever.
After Pingyao (maybe 30KM south?) I noticed a Pagoda way up in the hill beside the highway. The people working there tried to convince me to buy a ticket and go up but I was thinking I have another 80KM to bike. Well I decided to do it anyway and besides it was only 10 Yuan and the middle of the scorching hot day. This is my only excuse for traveling alone as anyone else would have said forget it.
I tried counting the steps and it was roughly 400 of the little buggers and fairly steep in some places (did the Mayans borrow stair building techniques from China or what - there was some jade found in Mayan temples that scientists believe originated from China). My flip flops were handy so I wore those as there are excellent for climbing. When I got to the top there was one single monk and I realized again this would be a test. We agreed to strictly fight with our hands but could use natural weapons such as tree branches and water snakes. Neither of us could speak each others language so we just kinda pointed and nodded.
Okay the cool part:
The pagoda was very similar to the Xuan Wen in Taiyuan but with one major difference, none of the windows were blocked off! This allowed me to squirm out the little tunnel to the outside edge for a real view. The height of the passage was at most 2 feet high so only us little fuckers could crawl through. It totally felt like being a kid again, and since no one was around there were no restrictions. The other cool part about this particular pagoda was there was no lighting, so certain parts you had to navigate by feel - that always gets the adrenaline going!
Great day!
G


July 3rd (Saturday) Pingyao (Shanxi)
Posted: Mon, 5 Jul 2004 06:03:55
I did my tour with Mr. Lui today which was okay. We visited a bunch of old homes ranging from 100 years to the oldest being 400 years old. There were old people living in these old homes in the old city of Pingyao which is quite old, cuz it was built in old times eh!!!!
Personal comment:
The red guard really did a number of these places. Every dragon head had been smashed off, and I mean every single one (dragons are set on each roof top facing each other to ward of bad things). Also some of the more wealthy households would have two lions at the entrance to their humble abode, well they were all smashed as well. I am amazed that there is no retribution or even embarrassment with the people that did this, however maybe there was or is and it is not talked about. Anyway I went to a Confucius shrine (Mr. Lui is Catholic so he wasn't really interested - unfortunately religion has a way of closing the mind for some people), the old government office (pretty swank), the old bank and had a bicycle ride along the entire length of the city wall.
Pretty good day altogether. I also met a couple from Seattle who recommended going to Hua Shan (Flower Mountain) in the Shaanxi province. They had been in China for 10 month's and said this was the best site they had seen. Well, I will definitely see that, and it happens to be on the way to Xian. Do any of these city names mean anything to y'all?
G


July 2nd (Friday) Pingyao (Shanxi) 125KM
Posted: Mon, 5 Jul 2004 05:52:42
This ride was flat as a pancake. In fact I rode for a very long time through the hottest part of the day but it still wasn't difficult. I think the extra rest in Taiyuan really paid off. About 12KM outside of PingYao I visited the Zheng Guo temple which was only 2.5 KM off the 108 so I figured it wouldn't hurt. It was actually pretty cool because no one was around and the site was frequented by emperor's. After that I continued on to Pingyao which was another unexpected surprise. My travel book mentions it, but there is no star beside it, maybe there should be?
The whole ancient city is surrounded by a wall that is in 6KM in length and shaped like a turtle. Originally the wall was mud but 600 years ago the top and outside section of the wall was covered with brick. The wall itself is 10 meters high and 5 meters wide so no trebuchet could bring it down. I got a hotel just outside the North gate for 60 Yuan a night which was very new and very clean. After cleaning up I ventured into the city and ran into Mr. Lui who was a guide. We sat down for some dinner and he offered to take me around the city for 80 Yuan. A little pricey but I said okay, 10 o'clock tomorrow. That night was a full moon so I walked around a bit but unfortunately none of the pictures I took turned out very good (not like you would see them anyway - doh!).
G


July 1st(Thursday) Taiyuan(Shanxi)
Posted: Sun, 4 Jul 2004 06:28:24
June 30th was Dan J's B-day........today it is Canada day!!!
Today I went to the twin Pagoda's, Xuan Wen and Wen Feng,as there were no other Canadians around-or foreigners for that matter. The place was really tranquil which gave me some time to reflect on some personal stuff and the trip in general so far. It was really great as there were only a couple of other people wandering around and almost no care takers in sight. It kinda of reminded me of the North West corner of Stanley park where the giant rock is.
I entered the Xuan Wen pagoda and climbed up the spiral stair case to the top - kind of. All of the windows or exits or whatever are blocked off so you can't climb out and fall to your death (maybe a good thing). It was still pretty cool though and got some good pictures from up there (they are in the mail I promise!). The surrounding gardens were nothing spectacular as far as diversity but very ,very relaxing and quite.
I have made a lot of sacrifices to do this kind of trip, I was finally able to reconcile with that today as I knew I would, and be satisfied with my decisions. I have no regrets about what I have done. China is obviously a very far away place, nut more so with it's culture. I would hope that me friends can visit some day, especially my friends who were born in Hong Kong - Joe, Patrick, and Herbert.
I had a chance to go to the Kodak store and copy all of the pictures so far onto a CD (I made a back up of that). I sent them home and hopefully Matt will have them within the next two weeks. I named them by province_city_number -they're coming for real this time!!!!!
I have also decided to continue south in the Shanxi province and will end up missing Yan'Nan, but hey who needs to see where that Mao MF ended the long march anyway?
G